All wooden floors should be taken care of if you want them to last long. Follow the particular cleaning protocols to prevent damage to the surface. Know the signs, wood reacts to temperature and humidity therefore it is important to understand the environment that surrounds the floor. Here are tips on taking care of wooden floors:
Clean Spills Immediately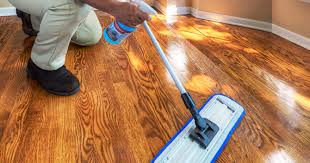 When liquid spills on a wooden floor, it can swell and shrink depending on the moisture. The best way is to dry the spill immediately to keep humidity levels down to avoid gapping of the wood, splurging, and cupping. Always keep the temperature between 60 and 80 degrees or between 30-50% humidity.
Use a dry or slightly damp cloth to wipe off the liquid, avoid a wet mop as it can cause more damage. Do not use regular household cleaning products such as ammonia to clean up a spill. For sticky spills, you can use a slightly damp cloth to clean but dry the surface using a microfiber pad.
Refinish the Surface after Few Years
A wooden floor will require a maintenance coat reapplies after few years especially the floor …